THE HARVESTS
The highly selective harvest, entirely by hand, occurs from late August through to early November on several pickings in the vineyard. There are three different ripening stages that will originate different wine styles.
We pick grapes at the time of full ripening, in September, before the appearance of noble rot, to produce our dry white wines. Later, in October, we pick whole bunches or selected ripe unbotrytized berries to produce the base wines and musts for the Tokaji Aszú winemaking.

THE HARVEST OF BOTRYTIZED CLUSTERS OR PART-CLUSTERS
We pick clusters or part-clusters of grapes, some very ripe and concentrated, some covered with noble rot, at the very end of the harvest in late October, early November. With these grapes we make the Tokaji Late Harvest and the more concentrated ones will become Tokaji Édes Szamorodni.

Two phenomena form the aszú berries: the fungus Botrytis cinerea and shrivelling of botrytized grapes on the vines. It is the balance between these two that determines the quality of the aszú berries and thus the aromatic profile of the vintage.
All the grapes on the cluster develop at a different rate, so we select the aszú grapes one by one. Our skilled harvesters pass through the vineyard two to four times per harvest to pick each aszú berry at its optimal state.
This incredibly time-consuming selection method guarantees the best quality for our wines. Aszú harvest is possibly the most labour-intensive harvest in the world - harvesters can pick a mere 6-10kg a day.
This is a small crop. Only 5-20% of grapes ever become an aszú berry. And plenty of weight is lost before a grape reaches aszú quality: an average of five kilograms of intact grapes becomes one kilogram of aszú grapes.
The berries of the individual plots are stored in stainless steel vats until the aszú vinification begins.
At Disznókő, each kind of berry corresponds to a specific wine:
. Dry
. Late harvest
. Szamorodni
. Aszú berries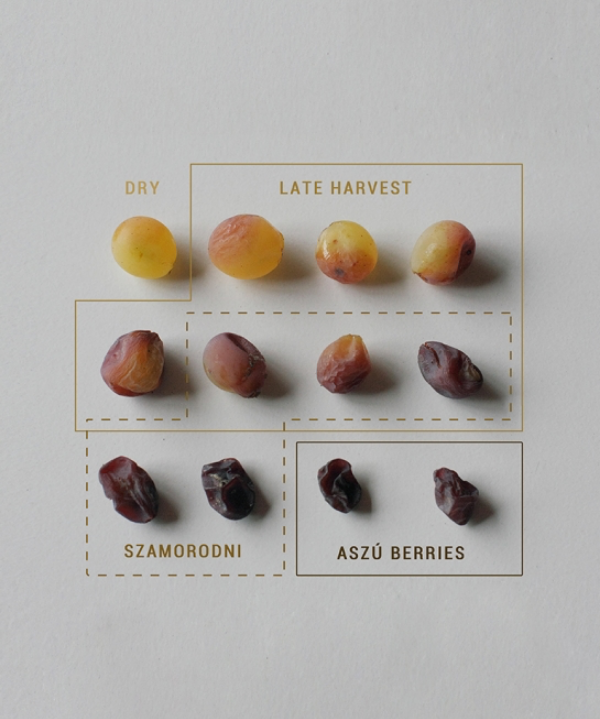 Botrytis cinerea (noble rot)
The fungus Botrytis cinerea settles on the ripe or very ripe grapes. It only appears when the necessary amount of humidity is present - coming either from damp autumn weather or vapour and fog rising from the Tisza and Bodrog rivers. First the fungus forms a thin layer on the grape skins, then it enters the grape weaving its threads through the flesh. In response to the Botrytis, the grape creates aroma precursors that will be changed later and bring the specific "Botrytis" notes of citrus. It is important that the Botrytis settles on ripe grapes, otherwise it causes grey rot.
Shrivelling of the botrytized berries
As a result of Botrytis cinerea and full ripeness, the skin of the grape becomes thinner, allowing the water to evaporate more easily. The grape shrivels and the sugars, acids and flavour components become increasingly concentrated. Warm autumn winds and sunshine also aid the natural shrivelling process.